Release notes describe changes, fixes, and additions to the Empire theme. Use this article to stay in the loop with the latest releases of Empire. Each version is listed below with the release date, version number, and changes included.
Empire is compatible with Online Store 2.0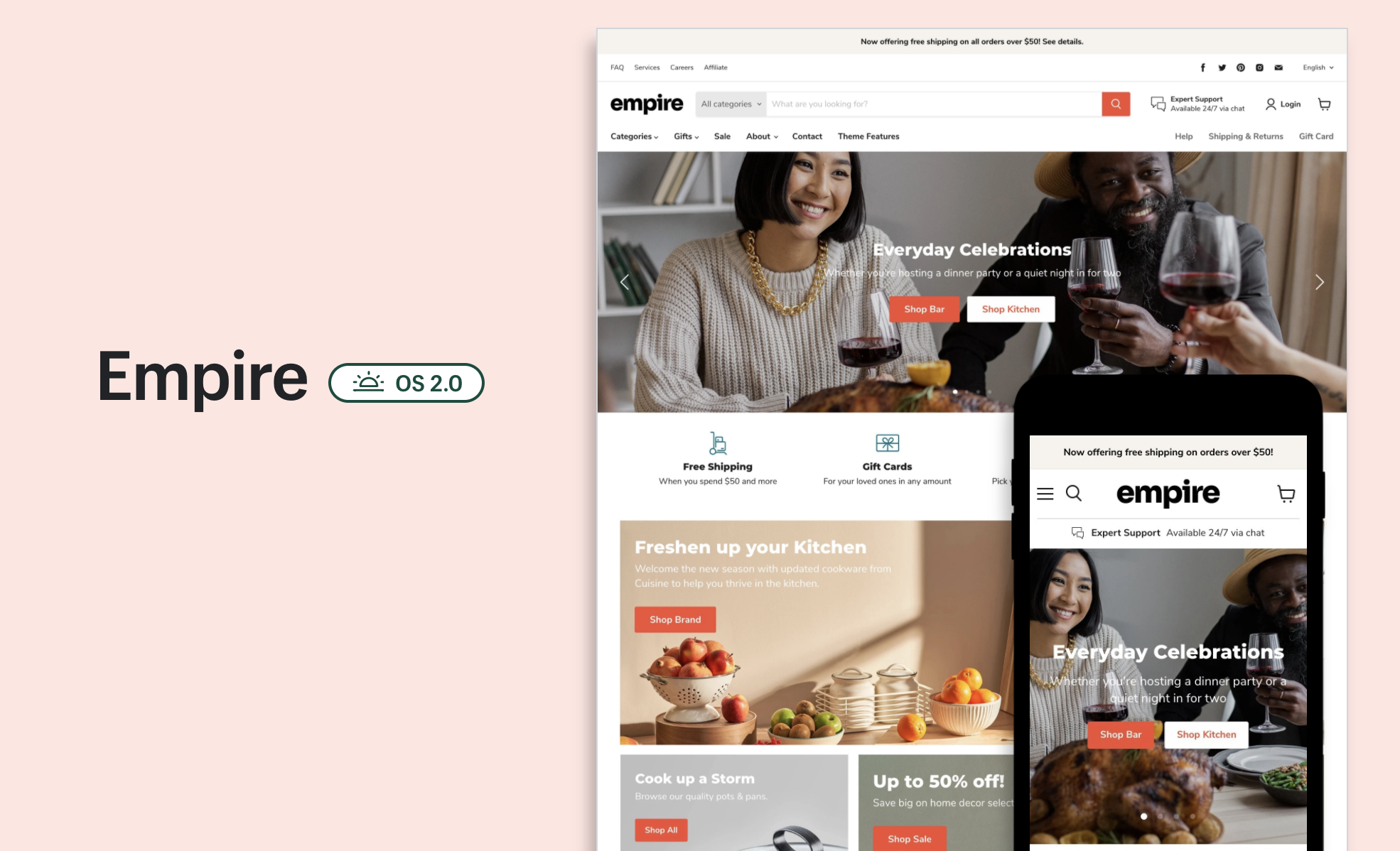 January 16th, 2023 - v8.1.0
Added
Minimum version required to use Shopify's focal point feature.
Changed
Renamed "Recommended products" to "Related products".

Resolved several accessibility errors.
December 14th, 2022 - v8.0.0
Supported by Theme Updater
Added
Changed
Refactored quantity selector to work with plus and minus buttons.
Fixed
Fixed an issue where the Shoppable image section would create mobile whitespace.
November 10th, 2022 - v7.2.1
Supported by Theme Updater
Fixed
Fixed an issue where the product compare checkbox would appear in the Countdown timer section.
November 9th, 2022 - v7.2.0
Supported by Theme Updater
Added
October 19th, 2022 - v7.1.0
Supported by Theme Updater
Added
Added Complementary products block.
Minimum version 7.1.0 required to use Shopify's Complementary Products feature
August 9th, 2022 - v7.0.1
Supported by Theme Updater
Added
Added AggregateRating structured data for products.
Added Review structured data for products.
Fixed
Fixed an issue where the product compare toggle button would not appear if the "Show grid/list view toggle" setting was disabled.
Fixed an issue where inserted tables would present duplicate borders.
Fixed an issue where product tabs would overflow on mobile devices.
Fixed an issue where desktop slideshow images would appear on tablet devices.
Fixed an issue where the add-to-cart button and quantity selector were slightly misaligned on mobile devices.
Fixed an issue where the announcement bar would hide search and login buttons in the menu on mobile devices.
Fixed an issue where you would see console errors when resizing the screen width.
Fixed an issue where price ranges would not appear on product cards for products with first variants priced higher than other variants.
Fixed an issue where the Brand structured data for products would be of an invalid type.
Fixed an issue where the previously active tags would not be preserved when filtering on the collections page.
Fixed an issue where a "Required parameter missing or invalid: items" message would appear when adding a product to the cart when the "Auto-select first available variant" theme setting was disabled.
June 16th, 2022 - v7.0.0
Supported by Theme Updater
Added
Changed
Removed the customer-facing products-per-page option from collection templates. The number of products per page on collections is set in the theme editor. This resolves an issue where the customer's product per page selection was not applied to all collection views.
Fixes and improvements
Resolved console error that occurred with two featured collections present on the home page.
Mobile slideshow text responds to correct color setting.
Sidebar filters on vendor collection pages are clickable.
Faceted filter tags with special characters work as expected.
'Set as default address' checkbox works on customer account page.
Collection description supports tab code.
Custom color swatch files are visible on the product form.
Product swatches using variant images are sized correctly.
Cart shipping calculator no longer displays HTML characters when changing languages.
All links in mega menu with sidebar sections are visible on Windows 10.
Last column image in mega menu fits menu container.
Product SKU appears in quick shop.
Vimeo videos play in product media gallery.
Three-column template for the product page can now hide share buttons.
Non-English locale files have correct structure.
Slideshow works as expected with 'adapt to first slide' height setting.
May 16th, 2022 - v6.2.0
Supported by Theme Updater
Added
Expanded social media settings and icon options.
Changed
Social icons will shift to the left of the utility bar when the menu is blank.
February 16th, 2022 - v6.1.0
Supported by Theme Updater
Added
Fixed
Subcollections on the collection page can now display even when the sidebar is disabled.
The tag order feature on collection pages will no longer break for tags with less-than(<) or greater-than(>) symbols.
Removing an item or updating the quantity of an item on the cart page works with no delay.
The month portion of the timestamp on recently viewed product cards will appear in the correct language.
In Firefox, product images on collection pages no longer change size when the cursor hovers over swatches.
Product page now shows the correct price for the variant when initially loading the page.
The sold-out options in the theme setting now apply to swatches in collection page product grids.
Dynamic checkout button is enabled for available variants regardless of the auto-select first available variant setting.
Correct prices are displayed for all products in the shoppable image section.
With auto-select first available variant disabled, the SKU will only display when a SKU block has been added and a variant has been selected.
February 1st, 2022 - v6.0.1
Supported by Theme Updater
Changed
September 1st, 2021 - v6.0.0
Supported by Theme Updater
Added
We have added support for Shopify's Online Store 2.0 update, including:

Sections traditionally limited to the home page can now enhance product pages.
Product sections now have the ability to add, remove, and move blocks of content around.
Product sections can now include app blocks.
Header navigation can now open submenus even when JavaScript is disabled.

Subscription support has been added.
Support for showing international tax-inclusive prices.
Changed
When updating to an Online Store 2.0-compatible version, the Theme Updater  is only able to preserve global theme settings (e.g. Colors, Typography). Content such as homepage sections will need to be rebuilt. This is a one-time process that is required to align with new templating standards and maintain theme performance.
Vintage theme versions
Theme versions listed below are considered vintage themes. Update to the latest version to optimize compatibility with Online Store 2.0 features.
August 3rd, 2021 - v5.11.4
Fixed
Fixed collection list pagination displaying incorrectly with large collection sets.
July 5th, 2021 - v5.11.3
Fixed
Product thumbnails no longer appear behind the main product image.
Fixed an issue with add-to-cart and quickshop infinitely loading on iOS devices.
June 17th, 2021 - v5.11.2
Fixed
Form placeholder labels no longer obstruct input text.
Fixed Product page showing incorrect variant price on initial load.
June 2nd, 2021 - v5.11.1
Added
May 17th, 2021 - v5.11.0
Fixed
Issue where filter tags were not centered with the checkbox when on multiple lines.
On iOS, the group filter tags only break onto a new line when their length is long enough.
Issue with filter tags sometimes not appearing correctly on the collection pages.
Live search is now even more accessible for keyboard users.
The mega navigation is now positioned directly below its parent element to make it easier to access when there are 2 or more rows of menu links.
Adjusted the sticky header collapse so that it no longer gets stuck in either the open or closed position.
The local pickup modal opens correctly when the page loads without a pre-selected variant.
Issue where a slight gap above sticky header would appear above the header.
Changed
Moved Header sign-in/account link next to cart.
Collection filters improvements:

New setting to show product counts beside each tag.
Collapsible filters with a setting to control how they appear when the page first loads.
Added
April 12th, 2021 - v5.10.0
Changed
Re-ordered theme preset settings.
March 17th, 2021 - v5.9.0
Fixed
Issue where custom color swatches were not working on product page.
Issue where text was sometimes cut off in Grid section.
Issue where Grid section's promo blocks were not maintaining aspect ratio.
Issue where Featured collection title card failed to display unique color when multiple sections are present.
Issue where Featured collection slideshow cards sometimes did not initialize correctly.
Issue where Featured collection button sometimes covers quick ATC button.
Issue where the section below Featured Collection sometimes overlaps the product cards.
Issue where gift card print option does not work.
Issue where when animations were reduced, the content was not appearing correctly on single-slide slideshows.
Issue where price was missing from the product grid's 'List view' card.
Added
Changed
Improved the way ranged pricing is displayed for products with variants at multiple price points.
January 19th, 2021 - v5.8.0
Added
Changed
The home page Slideshow and Highlights bar sections are now dynamic sections (these can be placed anywhere on the home page).
If you have already set up a static Slideshow and Highlights banner, they will not appear on your home page after updating

Please refer to these articles for instruction on how to replace your Slideshow and Highlights banner:
November 3rd, 2020 - v5.7.1
Changed
Changed script file naming to improve update compatibility.
Fixed
Corrected visibility of group tag filters.
October 26th, 2020 - v5.7.0
Added
October 15th, 2020 - v5.6.0
Changed
We've switched the theme's Liquid code to use

 

render

 

tags, instead of the deprecated

 

include

 

tag.
Plyr styles now load just in time and only when required which reduces page weight for pages without product videos.
Removed code splitting to provide performance update.
Reduced performance impact of a reflow by switching away from a jQuery function in the header.
Improved performance of ripple effect by postponing its initialization.
August 26th, 2020 - v5.5.2
Fixed
Improved the table styling as well as made them mobile-responsive.
The collection page sidebar is now aligned with the utility bar.
The products in the collection 'list-view' no longer have a long blue outline when viewed on an iOS device.
Products with no images can change variants once again.
The 'forgot your password' link works once again on the customer login page.
Changed
We have removed the default social media sharing image setting and we now defer to the setting in the Shopify admin.
July 22nd, 2020 - v5.5.1
Fixed
Issue with JavaScript being in developer mode.
July 15th, 2020 - v5.5.0
Added
June 22nd, 2020 - v5.4.0
Changed
Currency selector setting info to tell merchants to visit payment settings, not currency settings.
Stylesheet no longer uses SCSS, so settings update much faster in the theme editor.
Small performance update where unnecessary render calls caused by animations applied to rimg-canvas elements were removed.
June 2nd, 2020 - v5.3.0
Added
Some subtle animations to the product cards, signpost (arrow) links, and share buttons.
Fade out animation when removing an item from the cart that will show the item will be removed.
A ripple effect which will appear when clicking on various buttons throughout the theme.
New smooth opening and closing sequences to the search bar on desktop, with background dimmer.
Load-in animations for home page sections where content animates in sequence.
Changed
Better accordion animations in the mobile navigation, menu list section, and footer menu blocks.
The mobile menu now has a more smooth and elegant animation effect when sliding in and out.
Compressed the layout of the header on smaller tablet sizes to give more space for the store content.
Changed the active filter buttons on the collection page to be more in line with other buttons in the theme.
Primary navigation is now given a slight delay when hovering so that the menus do not open when customers do not intend to.
Search bar on mobile now transform into an overlay when clicked with new popup transition.
April 6th, 2020 - v5.2.0
Added
Fixed
Product cards images are now uncropped when "Enable image crop" is disabled.
Product card quick shop and add to cart buttons are now bottom aligned on mobile.
Removed
February 11th, 2020 - v5.1.1
Removed
Instagram section has been removed. The API has been deprecated with no suitable replacement so from now on you'll need to switch to using an app.
January 26th, 2020 - v5.1.0
Added
Changed
Subtly tweaked animations across the theme.
Images will no longer appear stretched on static pages.
Updated to use new product media component.
In order to prepare for Shopify's Product Media update, using the ALT text and video URL approach for displaying videos in the product gallery will be deactivated for versions 5.1.0 and above. The Product Media update will include platform enhancements for adding video and 3D models.
Fixed
Fixed issue with featured product variants leading to a 404 page after a refresh.
November 20th, 2019 - v5.0.1
Fixed
Implemented a fix on all mobile sliders which were encountering issues in the newest version of iOS (13).
Added
We added photoswipe to product galleries on mobile.
Changed
Updated Supply and Industrial presets to match our new demos.
November 7th, 2019 - v5.0.0
Added
Changed
Significantly improved navigation speed by prefetching pages when required.
Removed
Remove unused recently viewed section setting.
Removed unused language string revealing product stock.
Fixed
Fixed header cart count inaccurately reflecting cart quantity.
Fixed product item actions appearing on recently viewed.
Fixed unneeded spacing in Twitter component.
Fixed quotations in product titles causing issues on the cart page on update.
October 23rd, 2019 - v4.7.0
Added
Fixed
Fixed issue where "Remove all" filter link didn't work correctly in certain instances.
Changed
Removed horizontal scroll on Mega navigation in favor of vertical scrolling.
Changed info in label attributes into info attributes in the theme editor.
Updated Shopify-structured-data.
October 8th, 2019 - v4.6.2
Fixed
"Forgot your password?" link on the account page is working again.
Currency conversion was sometimes showing incorrect prices, which is now fixed.
Fixed some currency conversion issues in the quick shop.
Buttons in the mosaic section are now aligned properly in Firefox and Safari.
The shipping calculator now uses the correct shop currency when currency conversion is disabled.
Pressing "Enter" in the search input now takes you to the full results.
Highlights banner loads more smoothly on mobile devices, without squished text.
Entering quantities on the cart page is now smoother and less frustrating.
August 13th, 2019 - v4.6.1
Changed
Removed our website link from the footer.
Adjusted styling for Dynamic checkout buttons on the cart page.
Fixed
Recently viewed products will no longer display the password page for deleted products
in preview mode.
Advanced Group Tags are now working correctly on the 'collections/all' page.
July 16th, 2019 - v4.6.0
Polyfills for older browsers are now only loaded for older browsers, improving speed for everybody else.
We added the option to resize the logo on the password page and allowed the header to
grow with it.
Instagram photos are always cropped to be square.
Improved performance by preloading styles to avoid render blocking.
Map, Instagram, Twitter and Video sections are only initialized when they scroll into view, improving page load time.
Use font preloading to improve performance and show more page content sooner.
Images sizes are calculated more precisely, for a crisper visual experience.
The Quick Shop is now loaded asynchronously which makes product grid pages load faster.
We are now using Shopify's built-in sort options on the collection page.
Solved some currency conversion rounding errors so prices show the same regardless of how you got there.
Removed Google+.
We improved the spacing on slideshow text content.
Support link in the Theme editor now points to our new support form.
June 18th, 2019 - v4.5.0
Shipping calculator now checks more shipping providers, if they're set up in the Shopify Admin.
Recently viewed product cards will only show once.
Recently viewed product cards will only show one date.
The header cart count now updates properly.
'Sort by' settings will now persist on the collection page when you click the 'Next' and 'Previous' links.
Fixed bug preventing cart redirection from Collection pages.
Dynamic Collection List item images will be consistently centered in their containers.
Fixed a bug with full screen product videos.
Cropped product card hover images now align the way they should be.
Added URI encoding of filter tags to account for international characters.
Fix quantity event being fired twice for each input change.
Sale badges now work for products whose main variant isn't on sale.
Adding an image to the cart no longer gives a grey overlay to the whole cart.
Updated the image with text overlay section to fix a couple bugs.
Updated social meta to fix an issue with images on Twitter preview cards.
Addressed spacing issue in the small promo block on mobile.
Slideshow (and other Javascript) works in IE 11 again.
Selected slides on the homepage slideshow will reliably slide into view in the theme editor.
First image of "Original aspect ratio" slideshows is now the original aspect ratio, instead of invisible.
Fixed custom icons in the highlights banner that were sometimes showing at a low resolution.
Instagram photos are always cropped to be square.
May 30th, 2019 - v4.4.1
Fix for missing footer background default color bug for themes downloaded from Shopify Theme Store.
March 21st, 2019 - v4.4.0
We changed the underlying HTML for mosaic and grid sections so that they are more accessible.
We added in some keyboard navigation handling to our slideshow.
We have added focus states and other accessibility features to our account pages.
Our search menu was updated to be more keyboard accessible.
We have updated the Collections List page to be more universally accessible.
We've made several changes to the Cart page to make it more universally accessible.
Product cards needed a little update with regards to accessibility and keyboard navigation, so we fixed that.
We've updated the blog page and blog homepage section to be more universally accessible.
We have added alt text and aria-labels to the Instagram feed for use with screen readers.
We have added the option to include a caption with videos on the homepage, and added some accessibility features.
We fixed our product pages and quick shop windows to have better support for people who navigate with a keyboard.
We have updated all of our modals for things like the Quick Shop so that people who use keyboard navigation can use them easier.
We have restructured headers on several pages to make sure they occur in the correct order.
We have updated the collections page to be more accessible for people who navigate with a keyboard.
We have removed the duplicate newsletter input ID on the home page.
The announcement bar now has an outline while using keyboard navigation.
Removed the imagesLoaded code library to use our own library, hopefully making page loads more streamlined.
The color overlay will now display on homepage videos.
Now background images in the search section are nice and crisp.
We've fixed the "Show 36" and "Show 48" buttons on the Collection page.
December 19th, 2018 - v4.3.3
Changed dynamic checkout buttons content.
Changed dynamic checkout buttons to be enabled by default.
December 6th, 2018 - v4.3.1
You an now use rich text in the small promo and highlights banner areas.
You can now choose to show the dynamic checkout buttons on the cart page.
We've added a LinkedIn social media icon.
You can now choose to show a lock icon on the checkout buttons.
Live Search will now redirect to the search page when the user hits 'enter' or clicks the search icon unless the search field is empty.
We did some cleanup behind-the-scenes to make the giftcard work more efficiently.
Simplified the code for the Grid/List buttons on the collection page.
Added comments to CSS to clarify how the Product Gallery works.
The 'Message Us' button for the Facebook Messenger sales channel will appear over all other page content.
You can now add rich text to the announcement bar, small promo, and highlights banner areas.
Added comments to video snippet to clarify how it works.
We've made the instructions for creating a mega-nav a little clearer.
The homepage will now have only one H1 tag containing the store name.
Dropped IE9 support. Cold.
Timestamps on Recently Viewed Product cards should now be accurate when they are older than 24 hours.
Recently Viewed Products will now update with changes to product details since the last browser session.
We've removed the video overlay when it's not enabled, so you can now manually play Vimeo videos.
Header now only sticks when you want it to.
Variant labels and image switching now work properly on product pages when related products are shown.
iOS sometimes automatically turns phone numbers into links, and now these links work. properly in the announcement bar, small promo, and highlights banner areas.
You can now scroll through product galleries on iOS when image zoom is enabled.
Fixed issue where swiping through slideshow results in page scrolling.
Twitter video thumbnails will now appear in the dynamic Twitter feed.
 
November 15th, 2018 - v4.2.5
Labels will now animate if input is autofilled.
We prevented zoom instructions from showing up on images that are too small to qualify for zoom, because what's the point?
Clicking outside a menu now closes the menu just like it should.
Fixed issue where Header menus with almost 2 levels of menu items would have a blank white space underneath on initial load.
Fixed issue where opening up the quickshop, there were two of the same product on the page, would cause the quickshop to be empty.
Fixed an issue where sometimes you could filter by multiple tags in the same tag group.
Only style the last selected filter before reloading the collection page.
Improved error handling when adding to cart fails.
Fixed issue where the add to cart button in the quickshop would not work if image zoom was enabled.
Fixed issue where the homepage video section would have extra white space underneath when the quickshop was opened.
Made collection page filter modal on mobile scrollable without having to click a filter.
Fixed issue where header covers breadcrumbs on the product page if no menu is selected for the navigation.
If you click into the search box with the add to cart flyout open, you no longer have to click a second time before typing.
Display different form components depending on whether JS is enabled.
November 2nd, 2018 - v4.2.4
The homepage blog section is now the same width as other homepage sections.

We also prevented Google from indexing the collection page multiple times for some better SEO.
September 6th, 2018 - v4.2.3
We fixed an issue where opening the same product in the quickshop twice in a row would cause the slider to stop working.

The white space between the header and first section when resizing the browser has been removed.

The Add to Cart banner closes when you click outside of it, just like it used to and is supposed to.
August 28th, 2018 - v4.2.2
Fixed issue where quickshop would break if you tried to open it multiple times.
Fixed meganav images from appearing blurry.
Prevent slideshow from getting cropped on mobile.
August 20th, 2018 - v4.2.1
The collapsed grid and mosaic tiles now load nice crisp images.
There's a brand new option to show a second product image when you hover over a product in the listings.
We've also added a new setting that allows you to align the text on the slideshow.
July 26th, 2018 - v4.2.0
We've connected the OpenGraph, and Twitter Card header tags to a more robust piece of logic. You can also find a new setting to set a default share image.
We've added the ability to show SKU's on the Product page, the Cart page, the Quickshop and the Featured Product section.
The promo block header size now stays the same after expanding the block on mobile.
"'!*%()[]/<> characters, and more, now work properly in product option names.
July 13th, 2018 - v4.1.0
Empire now supports image zoom! The feature is available on the Product page, the Quickshop, and the Featured Product section.
We've updated payment icons to use Shopify's SVGs.
July 4th, 2018 - v4.0.3
Fixed up an issue with Instagram and Twitter sections not loading posts until saving in the theme editor.
July 3rd, 2018 - v4.0.2
Fixed up a small inverted bit of logic, so that "View full details" now show in Featured products without descriptions.
Touched up styles on the Cart page when an item product has options.
We've made a small optimization to the product form, just to reduce some markup.
Pinterest "Save" buttons were showing even when an article, or a product, had no image to "Save" -- They'll hide properly now if there is no image.
June 14th, 2018 - v4.0.1
Reverted unintended change to the color of placeholder text in forms.
Fixed the button styling of the Grid/List buttons on the collection page, so that they work better with dark backgrounds.
June 7th, 2018 - v4.0.0
We've added links to the product's vendor! They'll link in the following areas:

Quick shop
Featured product
Product pages

A new setting has been added allowing customers to be brought to the cart page after a product has been added to it.
We renamed the "Quick look" to "Quick shop". You can change it back in the Languages area if you want to.
We've moved some settings around in "Theme settings -> Products". Settings which only relate to the "Quick shop" are now under their own heading, which should make finding things easier.
There were a few small bugs in the Rich Text section which didn't cause any problems, but we wanted to get rid of those all the same.
Updated newsletter forms to support rich-text so you can link to a privacy policy.
Fixed the header shadow showing up a bit incorrectly on wider screens.
We noticed that the Product gallery wouldn't actually show an image when javascript is not available, and the image is cropped. Fixed that.
When viewing a collection, the active 'Show by' selection should once again be styled differently than other values, letting Customers know what kind of pagination they're seeing.
Multiple Map sections should no longer cause errors.
We've updated our responsive library code, which should give a few improvements.
May 31st, 2018- v3.0.0
Added support for the new font picker setting.
So we've fixed up the Slideshow's Slides, the Video section, and the Search section so they name sections based on the heading field.
May 15th, 2018 - v2.4.5
Fixed issue with images not loading in the quickview.
April 26th, 2018 - v2.4.4
Fixed an issue where portrait images in the live search were displaying larger than their allotted area.
Fixed an issue where disabling the Dynamic Checkout buttons setting was causing errors in the quick look.
A giant grey box was appearing in the order pages just for fun. We don't like fun. Goodbye, grey box. 
April 19th, 2018 - v2.3.2
We fixed a scenario where product galleries would have no height unless the window was resized.
If a product video isn't the first video in the gallery, but is the selected
video for product variant and autoplay is enabled, the video will now play.
Fixed an issue with flickering promo blocks on mobile.
April 5th, 2018 - v2.3.1
YouTube links using 'youtu.be' should now work in the home page video and videos in the product gallery.
Home page videos work now if they don't have a cover image.
We fixed up how we call up YouTube videos.
The product gallery videos no longer load up additional images and we adjusted the styling to match the theme better.
Fixed a JS error popping up if recently viewed products are disabled and there are more tags available than shown in the collection sidebar.
Slideshows on mobile should no longer be getting in the way of scrolling for Android users
It turns out that the logic being used to build Filter "Groups" was actually
changing the "Group" name, and turning double spaces into  no spaces. The
logic has been cleaned up, and won't be changing any text. 
April 3rd, 2018 - v2.3.0
Implemented support for Shopify's new dynamic checkout buttons. Now on the product page and quickshop, customers can checkout directly via Amazon Pay, Apple Pay, Paypal, and Shopify Payments if you have those gateways set up on your store. 
Fixed the infamous broken Twitter feed.
Fixed broken Instagram feed.
Updated images to comply with Shopify's responsive images updates.
March 23rd, 2018 - v2.1.3
 Fixed some errors from the shipping calculator that weren't being handled correctly.
February 26th, 2018 - v2.1.2
Added even more new sections, including an Image with text overlay section, a Featured product section and a Map section, as well as an Announcement bar.
Fixed up some images in the mega nav that were taking up too much space.
The add to cart banner wasn't quite working right when the header was set to be not sticky but now it's working wonderfully.
The Rich text section on the home page now supports video imbeds and tabs.
Users who disable javascript now are able to see the Gallery section on the home page.
Newsletter sign up forms now support multiple tags instead of one very very large tag. A customer used to get one tag, such as "prospect newsletter", but will now get two tags: "prospect" and "newsletter."
Tweaked some things with the small promotional area in the header: the icon doesn't shrink unnecessarily on mobile, and the text updates as you type in the theme editor.
Made some minor fixes to the search overlays and announcement bar.
Fixed a small bug was found in our product structured data if the store's money formats contained a delimiter other than a decimal.
Third level dropdowns in the main navigation are now self aware if they will exceed the window boundaries. The rise of the menus has begun.
January 29th, 2018 - v2.0.0
An Announcement Bar to fill your customers in on new sales, offers and changes to your store.
A Small Promo section to include promotions, hours of operation, contact information and more.
A Slideshow section to show off new items, offers, and sales.
A Highlights Banner section to include highlights, offered services, hours of operation and contact information.
A Rich Text section to add valuable content to your home page.
A Video section to catch your customers' attention or get into more detail about you and your business.
A Search section to include a search bar anywhere on the home page.
The Recently Viewed Products section allows customers to keep a history of products that they have recently viewed.
A option to add up to two custom images to your Mega navigation. 
Improvements to the Mosaic and Grid sections such as individual overlays for each block, the ability to collapse blocks on mobile, global text alignment and a maintain aspect ratio setting.
A Product video setting which allows you to add videos to the Product gallery.
A Slideshow Aspect Ratio setting which allows you to change the sizes of the images in the Product gallery.
A Variant Option Style setting which allows you to change between a dropdown menu and selectable boxes for variants.
A Show Vendor setting to display the vendor of each product on the collection page.
A Grid/List View toggle setting to change the view of the collections page from a grid to a list.


January 26th, 2018 - v1.4.3
Fixed a couple issues with the currency converter. We added a few more supported currencies, and we made sure that the currency that a customer changes it to shows up in the quick buy modal as well.
Fixed a picky dropdown arrow so that it's more easily clickable.
January 16th, 2018 - v1.4.2
Fixed the broken Instagram and Twitter feeds.
January 11th, 2018 - v1.4.1
Added support for additional money formats.
Improved how product pricing behaves when the "compare at price" is the same as the regular price.
January 8th, 2018 - v1.4.0
Updated the menu system to be integrated with Shopify's nested navigation update. See this link to get more information on how to set up nested navigation.
November 30th, 2017 - v1.3.0
Made some updates to the currency converter (improved app compatibility, streamlined some dependency files, fixed up an issue where products were sometimes being shown as 0$.
Made some minor changes to the cart page to comply with some policy changes from Shopify. 
Overhauled our mobile sections that you can swipe and slide so you can do the same on narrow desktop browsers as well.
November 17th, 2017 - v1.2.10
Fixed issue with prices showing original price as 0$ on the collection page when "emphasize price" was disabled.
Fixed issue with a product listing all variants on sale even if only one variant was on sale.

Fixed JS errors and quick shops not loading.
October 26th, 2017 - v1.2.7
Implemented a small fix to the account orders to allow them to pick up on i18n.
Quickshop is working again.
Product galleries now only start once all the images have loaded, fixing issues where it would try to start... and not really work.
October 12th, 2017 - v1.2.6
Square images in your Instagram feed have made a comeback.
October 5th, 2017 - v1.2.5
Empire's documentation now links to the right place.
Did a little tweaking to the header so it aligns nicely.
September 7th, 2017 - v1.2.2 
There were some tricky cases where variants could cause the "amount saved" to be incorrect. We simplified the logic for these, making it more predictable.
We moved the "Continue Shopping" cart setting out into a global setting so it can be used on the 404 page.
Modal popups had some janky scroll behavior.
Some of you reported the spacing between the header and page contents sometimes being inconsistent.
The mobile nav menu now blocks page scrolling, which should reduce stress levels for mobile visitors by a solid 13%.
Haiku: A Springtime in the H1 Garden:

Stroll through product page 
 H1s blooming everywhere
Please cut H1s back

When filtered by a tag group, collection page titles were showing un-needed underscores. They_are_all_gone_now.
August 31st, 2017 - v1.2.1
Having the account and currency switcher disabled will no longer cause critical failures. There was a screw bouncing around in the guts of the JS controlling the header, making basically everything break.
Image formats have been liberated! PNG images with transparencies can now be used in Promo blocks and Articles.
The Twitter feed was reminded that sometimes, you just need to use a really long word. Instead of cutting that word off, it now wrap them.
Instagram photos returned to square and all is right with the world.
August 3rd, 2017 - v1.1.2
Fixed issue with second level navigation menus being unscrollable when exceeding the viewport 
Fixed issue with third level navigation menus opening past viewport 
July 27th, 2017 - v1.1.1
Fixed minor bugs with quickshop.
July 24th, 2017 - v1.1.0
Changed all range settings from dropdowns to sliders in theme editor.
July 20th, 2017 - v1.0.2
Fixed issue with prices in live search not matching store currency if currency switcher is disabled.
Fixed issue with mega navigation intermittently appearing blank in Safari.
July 14th, 2017 - v1.0.1
Implemented live search enhancements.
Fixed issue with mega navigation going blank sometimes in Safari.
Fixed issue with on sale products showing the wrong price in live search.
Minor bug fixes.