Pair high-quality images with products in your store by building a Lookbook page with the Editions theme's dedicated template. Also known as gallery pages, lookbooks are ideal for connecting media with products in your store. Use the preloaded sections or add your own to assemble an effective and attractive lookbook page.
Add a new page for the template
Start by creating a new page in your Shopify admin, then add a Title. Select the look-book option from the Theme templates dropdown, then Save.
The templates available here are the page templates included in the published theme only. Templates for unpublished, draft themes can be customized through the theme editor, but cannot be assigned to static pages until the theme is published.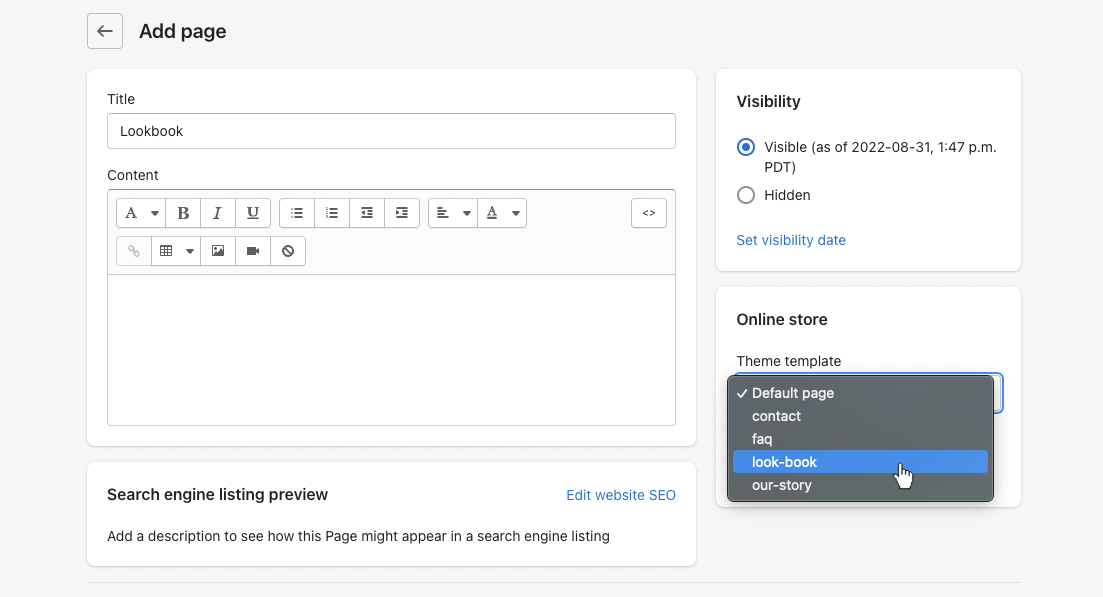 The lookbook features are added outside the Pages admin, but you can add Content to appear above the template's features if needed. To customize the template features, navigate to the theme editor.
Customize the template features
Once you have saved the new page, navigate to the Lookbook page through the theme editor. Use the page selector dropdown to open Pages, then look-book.
Select Regular, Wide, or Full Width for the Page width.
For Text alignment, align your text to the Left, Center, or Right.
Customize preloaded sections
The Lookbook template provides some recommended sections to get you started.
Customize the Rich text, Promotions, Featured collection, Video, and Image with text sections.
Add more by clicking (+) Add section. Delete a section by selecting Remove section.