Each Pixel Union Shopify theme purchase includes all future versions of that theme. Regular releases for new versions provide bug fixes, added features, platform requirements, or other changes.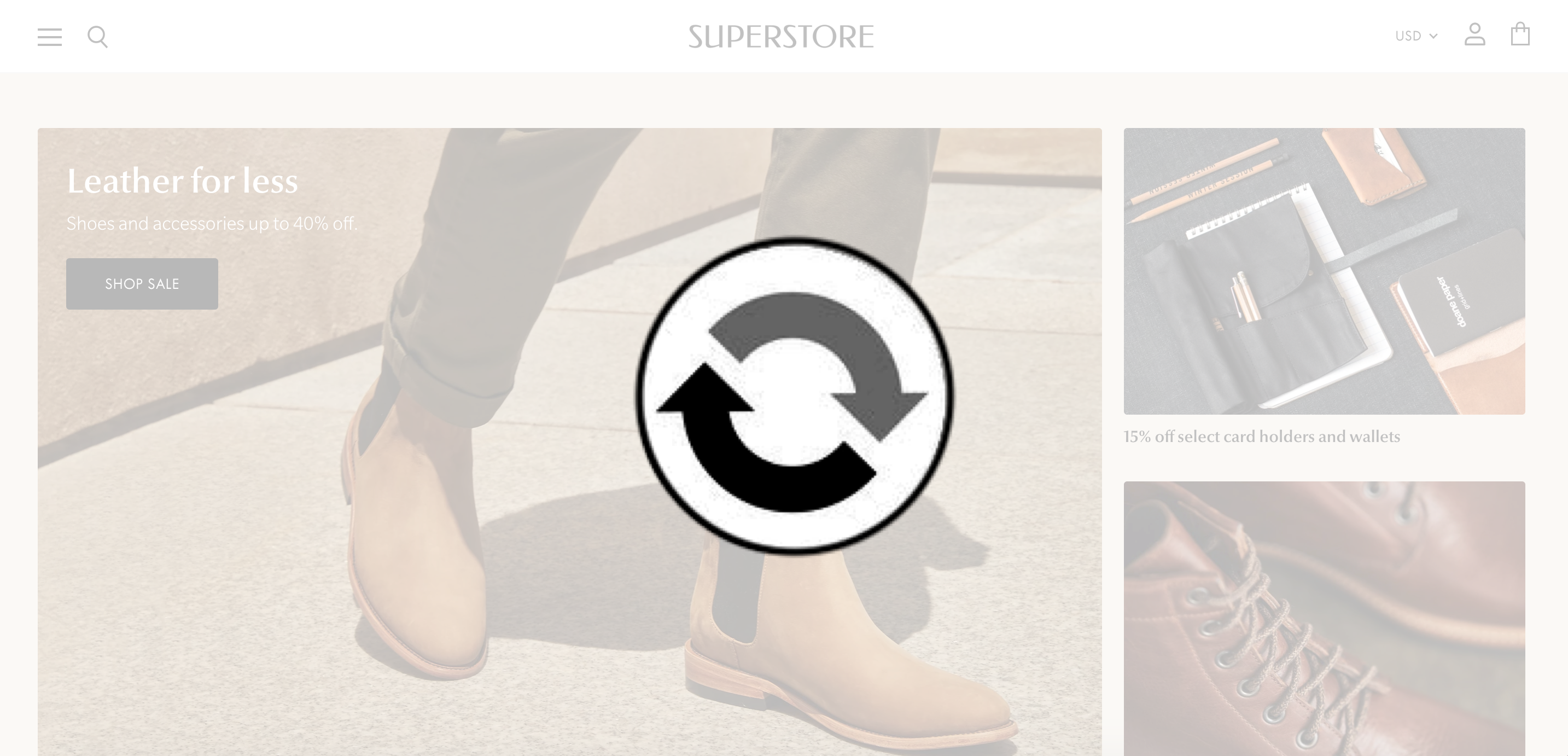 What does updating a theme involve?
Updating a theme is basically moving content (added images, copy, etc.) and customizations (settings, modifications, etc.) to an improved version of the theme. This is a manual process involving two separate theme files: the original theme with content and the latest version without content.
Why isn't this automatic?
This process is standard for Shopify platform themes. However, certain theme versions are compatible with the Theme Updater App's features.
Steps to take before updating
Before setting up the new version, there are a few things to keep close at hand:
Your featured and logo images in a local folder
Any relevant app documentation
A duplicate of your old theme
Duplicate current theme for backup and reference
To duplicate your published theme, click the Actions dropdown next to Current theme (accessed from Online Store > Themes in your Shopify admin). Select the Duplicate option. The duplicate theme will appear unpublished below, titled something like "Copy of Theme v0-0-0".
Find the duplicate below and click the Actions dropdown next to it. Select Edit code. Keep this window open for later reference.
Use the Theme Updater App to get the latest version
Get the 
Theme Updater App
 for access to the latest version of your theme. Developed by
Out of the Sandbox
, this app works with Pixel Union's theme current catalog as well. This app's Basic plan is complimentary for the first year after your theme purchase.
The Basic plan will allow you to get notifications when we release an update so you don't have to keep tabs on release notes or reach out to support. 
The Pro plan adds to the Basic by giving you access to Priority Support if you write in through the Theme Updater app admin. This plan also adds a file comparison feature to show you changes in the code side-by-side.
The app will install the latest theme as an unpublished (Draft) theme on the Themes page of your dashboard, carrying over as much content as possible from the previous theme.
This app will carry content over for:
Empire versions 2.3.0+
Atlantic versions 12.2.0+
Pacific versions 2.5.0+
Superstore versions 1.0.0+
Grid versions 3.5.0+
Startup versions 7.6.0+
Launch versions 6.0.0+
Editions versions 9.5.0+
Handy versions 1.8.0+
Vogue versions 2.3.0+
Reach versions 1.3.0+
Files that have been modified will be flagged by the app, so take a screenshot image or write down the files it identifies. These files will need to be modified again in the updated version.
For strategies on updating with customizations, check out How do I update a modified theme to the latest version? 
Update without the Theme Updater App
Shopify Theme Store purchases
If you bought the theme through the Shopify, then you can also visit the Themes Store while logged into your Shopify account, locate your theme, and click on Add latest version. 
The blank theme will be added to the Themes page of your Shopify admin for you to carry over content manually.
Pixel Union website purchases
If you purchased the theme from pixelunion.net, contact Pixel Union Theme Support to request the latest version release. Please include a copy or screenshot image of the original purchase receipt. We also require you to register your theme to validate your purchase. This can be done through the Theme Updater app in your free first year.
        Registering your Shopify theme
Update theme settings
Open the theme editor for both unpublished versions of the theme in separate windows (to do this, right-click the Customize link next to each theme, then select Open in new tab).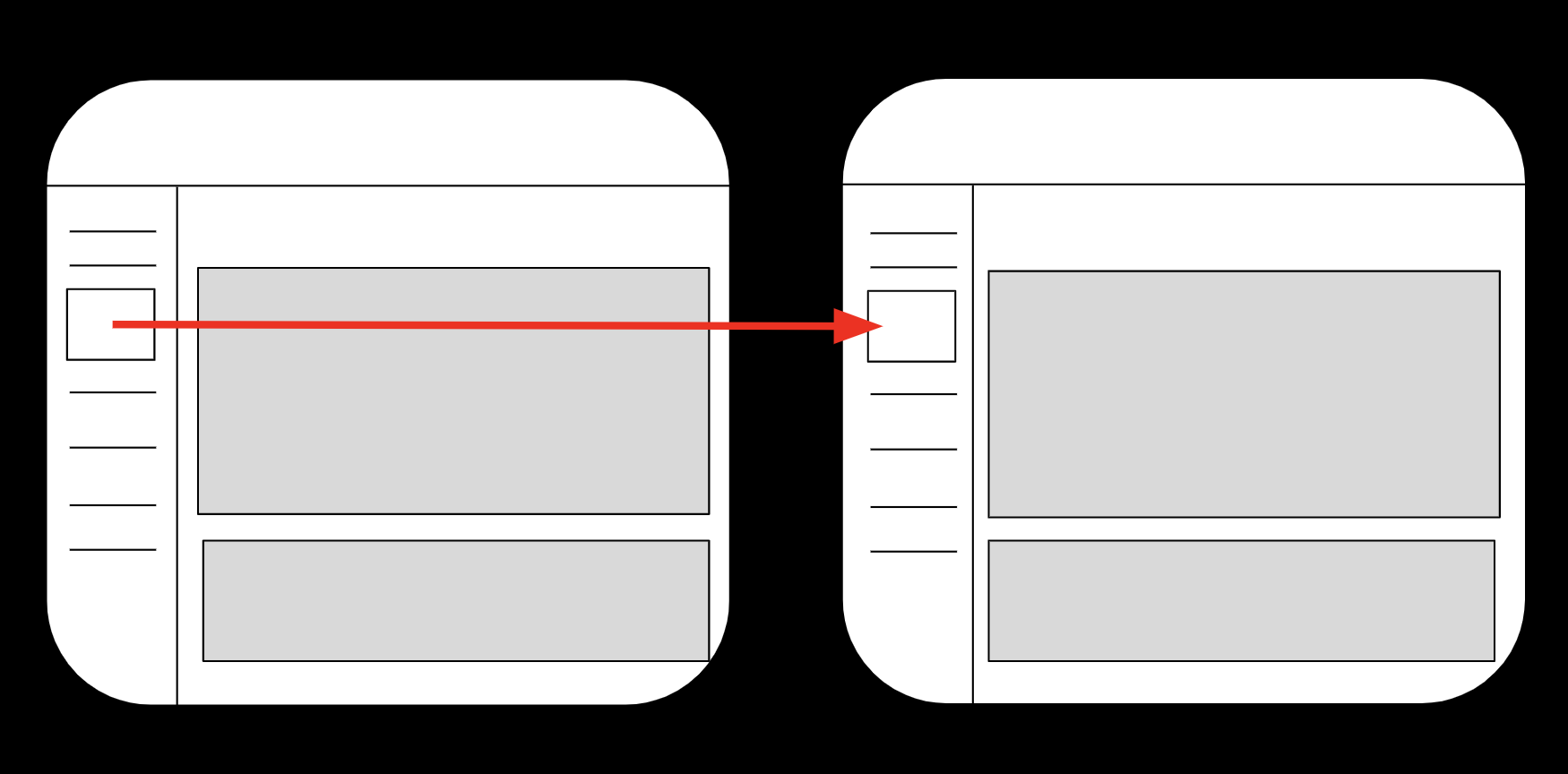 By placing them side-by-side in separate windows, you can go section by section and match the settings, copy, and content.
To match Colors settings, for instance, click on the swatch. In the bottom right of the popup modal, you'll see a six-value code. Copy this code and paste it into the matching color field in the new version.
Migrate custom code
Next, you'll need to migrate any custom code added to your Liquid files. Ideally, custom code will be documented so you can easily find it. However, if this is not case, you can use the file comparison tool  Diffchecker to help you remember where you've added custom code.
Compare files
Follow the link to Diffchecker. Copy and paste the liquid file that you believe had custom code added to it into the Original Text field. Then copy and paste the corresponding file of the new version into the Changed Text field. Click Find Difference.
In the  Original Text field, any code that does not appear in the Changed Text field will be highlighted in red (this will include changes we've made to the theme, but of course you only need worry about copying over custom code additions you've made). 
Prepare for future updates
For any custom code carried over or future additions made, adding a comment that is easily searchable allows you to search and locate any custom code quickly when making future updates. Comments will not affect the code. Simply add <!-- and --> on either side of your comment, like so: 
<!-- This is a comment. Custom code.-->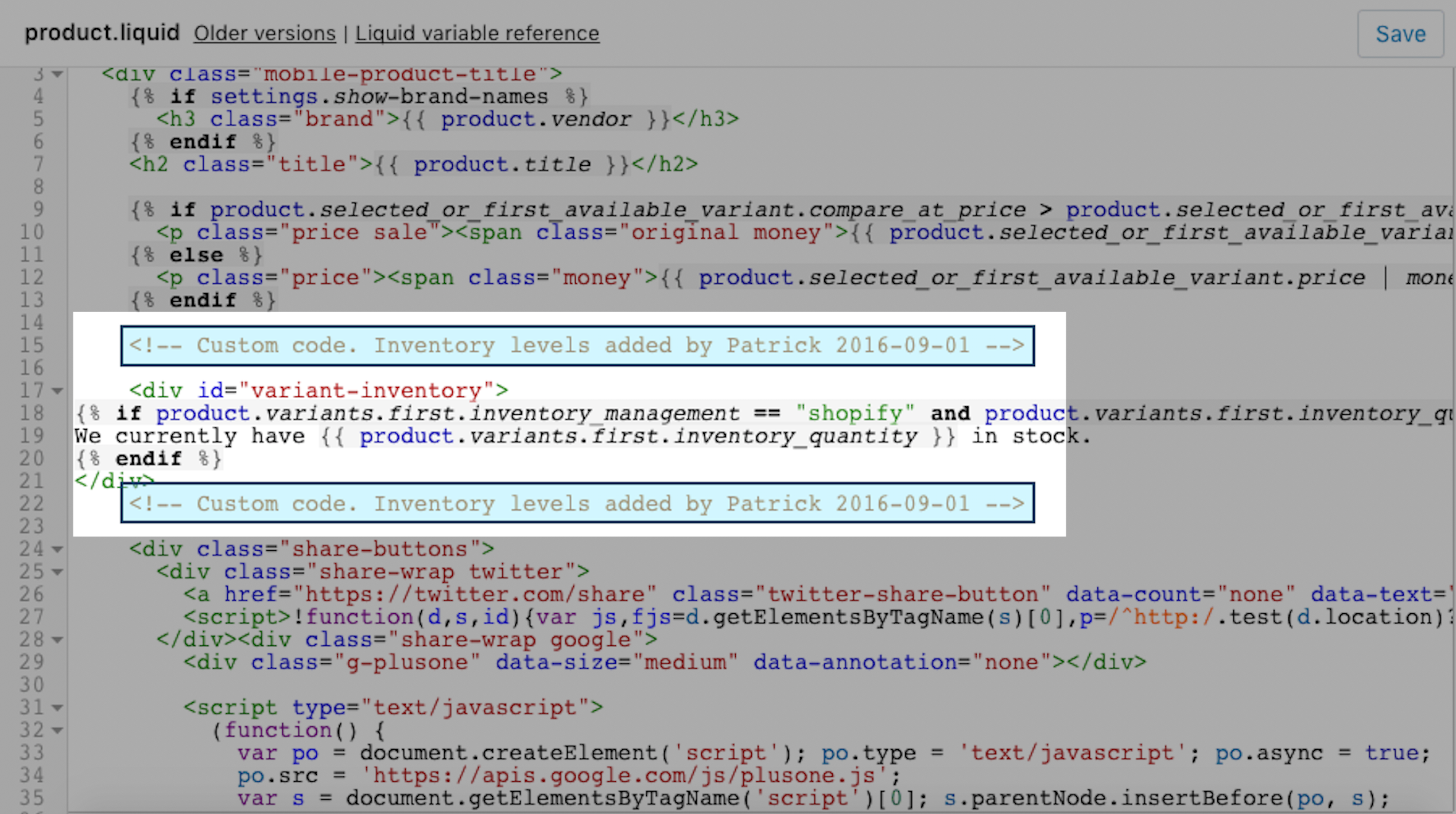 Be specific in your comment—add a note for the purpose, date, author, etc.
If you're adding code to the theme.scss.liquid file, we recommend inserting it at the bottom of the page.
Pro tip: When on the theme.scss.liquid page, press command + ↓ to jump down to the bottom of the file.
Reinstall apps
Any apps that add code to your theme's files may need to be reinstalled, depending on the app developer. You'll need to find the app documentation to follow the installation instructions. If you're unsure how, you can go to Apps and click View details to find the support email for that Shopify app.
Please note that our theme support team do not support third party apps.
Publish
One you've migrated all your settings and custom code, you're set to go. Hit Publish on the new version of the theme.