The Text columns with images section guides customers through a sequence of steps, key components, or any information that fits the format. Display up to six images, each with its own heading, caption, and call-to-action with the Text columns with images section.
Customize section settings
Click the Text columns with images section to open its general settings.
Select a section style
Select the Style for your section using the provided dropdown. There are three options: Accent, Contrast, and Default. Adjust these styles by visiting the Colors portion of the Theme settings.
Heading
Include a Heading with the provided field.
Customize the section blocks
Click on a Column block (Feature title) to customize its settings.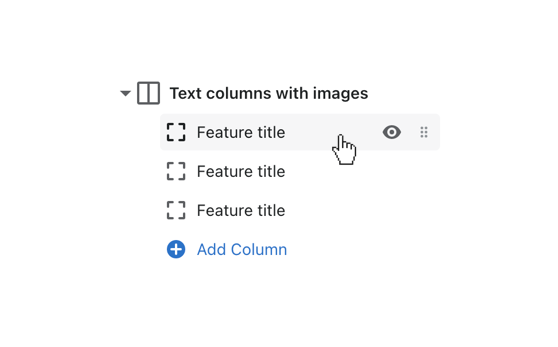 Text and button
Add a Heading and Text for your first column, as well as the Button text and Link URL for the call-to-action.
Select image
Then upload your Image by clicking Select image. Use square images in PNG format for these blocks.
You can add up to six columns (or six content blocks in three columns) to this section.