Registering your Pixel Union theme secures ongoing access to our support services and regular theme version upgrades. Through connecting and confirming Shopify stores with purchased theme licenses, this process serves to empower our merchants and curb digital piracy.
Theme registration is voluntary, simple, and only needs to be completed once for each store and theme license.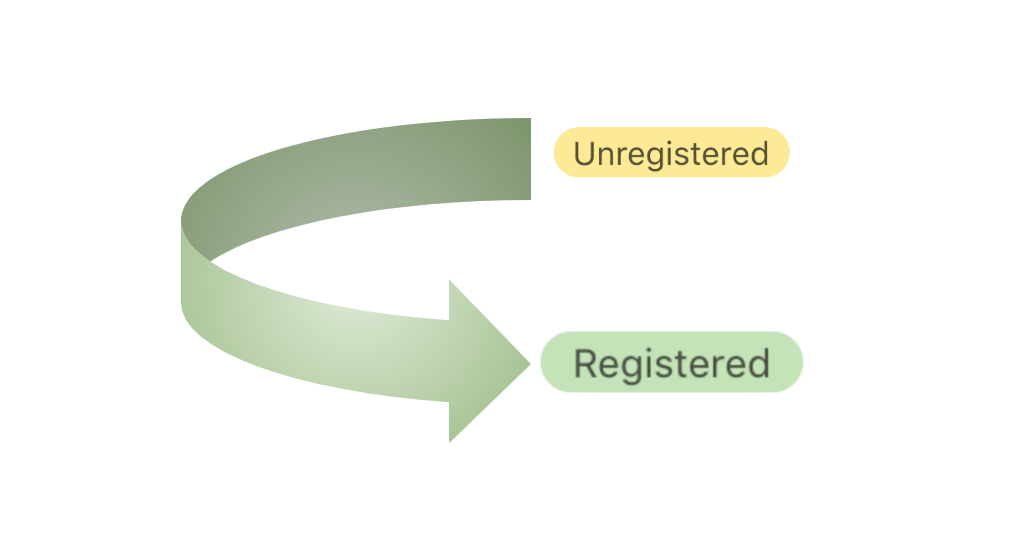 Step 1: Add the Theme Updater App to your store
To get started, add the Shopify Theme Updater App to your store.
Developed by Out of the Sandbox, this app allows merchants to streamline the updating process by transferring content, configurations, and certain customizations to the latest theme version.
There are two plans to choose from when using the Theme Updater app: Basic and Pro.
With your theme purchase, you receive one free year of the Basic plan. After this expires, it will be a monthly subscription on the plan of your choice.
You do not need to pay to register your theme.
Step 2: Open the app to view themes
Once this has been successfully installed in your app dashboard, open the app, then scroll down to the Currently published and Unpublished themes.
Updating a theme with this app creates a new draft for the updated theme. This means that the original theme will not be changed, removed, or replaced.
Beside each Pixel Union theme, notice the Unregistered label. This merely indicates that no purchase confirmation has been registered to connect the store with the theme. This does not affect the theme's performance, legitimacy, or eligibility for technical support.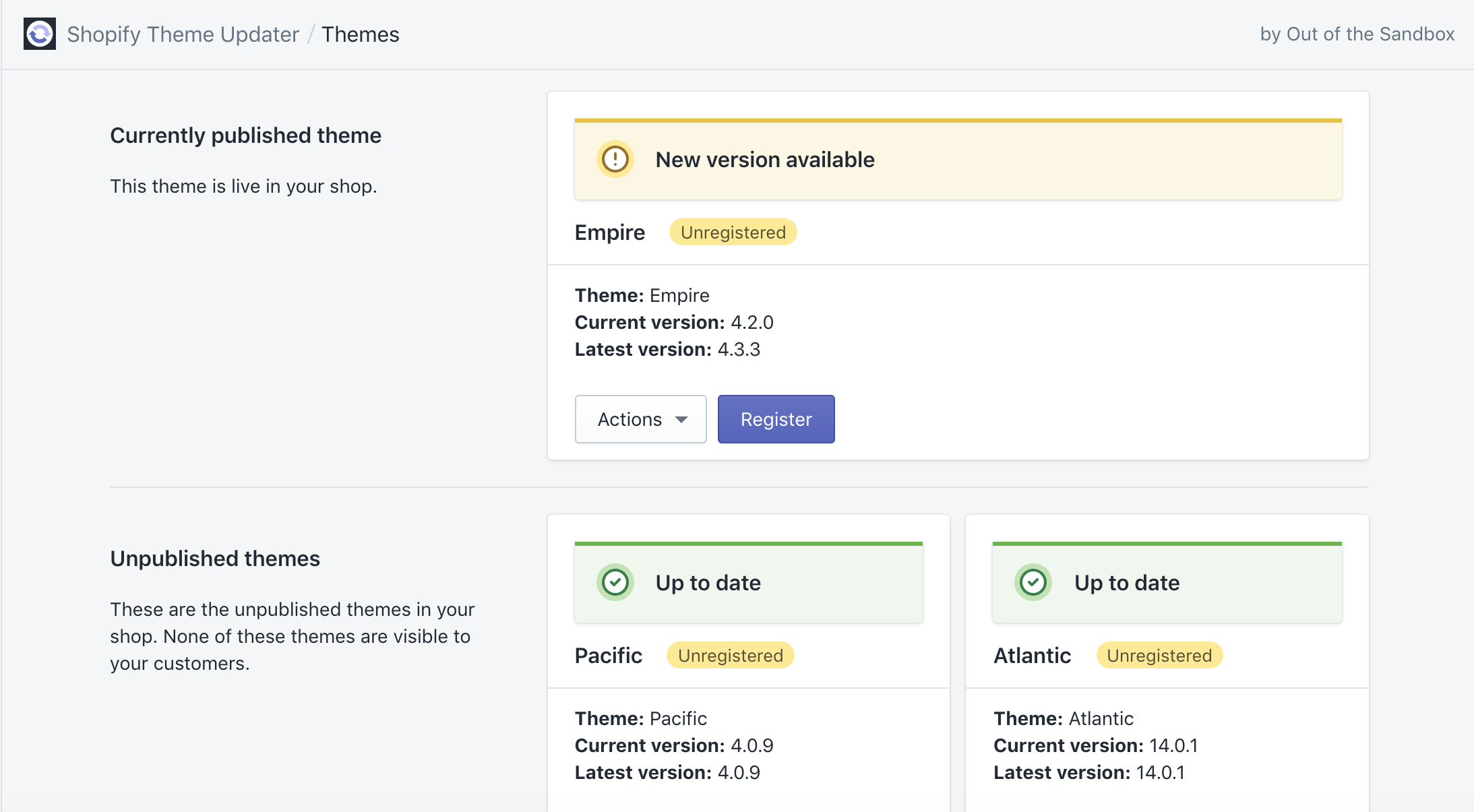 Step 3: Fill out the registration form
Locate the Unregistered theme and select Register.
This will prompt a short registration form. To complete this, you will need to confirm:
The email address associated with the original theme purchase
The myshopify domain name of your store
Once these fields have been completed, select Register.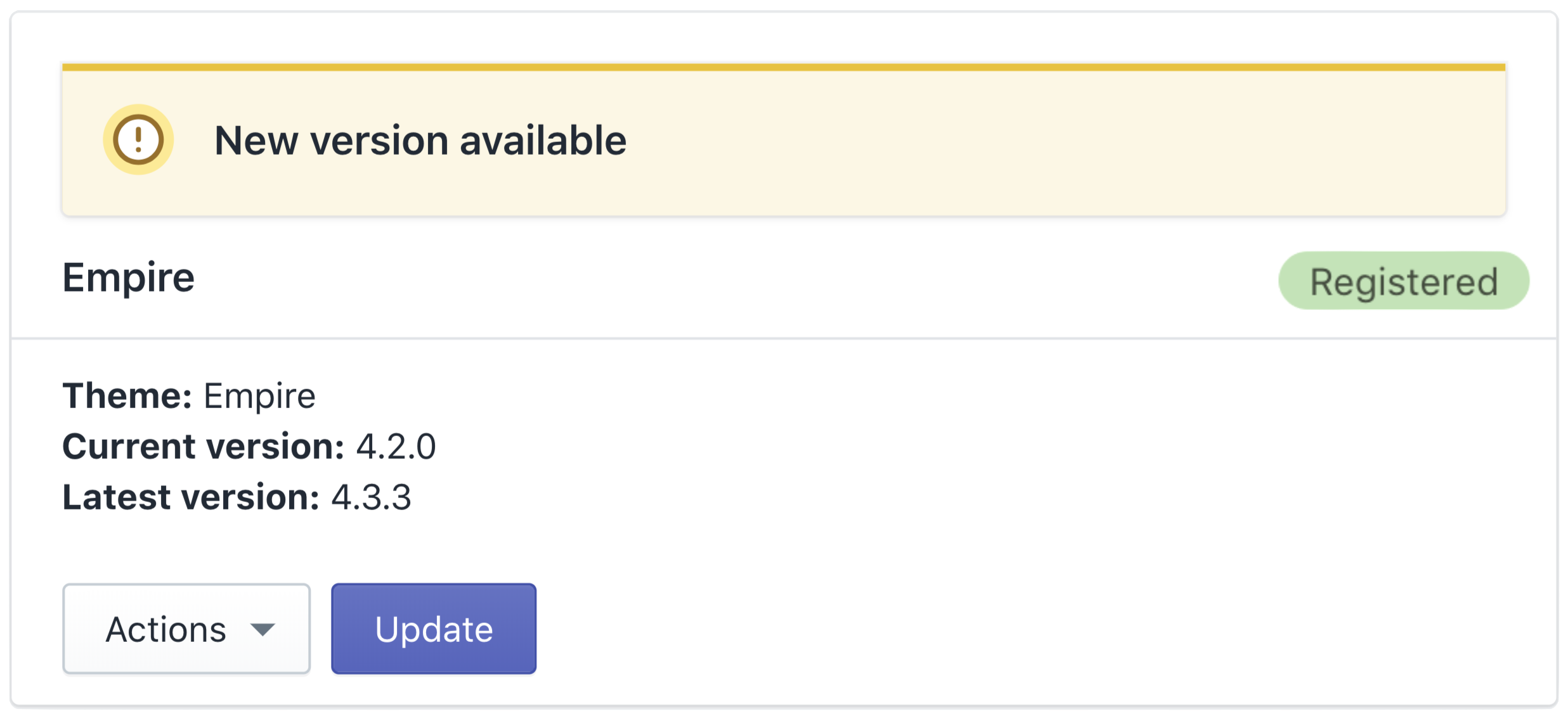 This can be repeated for any other Pixel Union themes in your Online Store.
Common licensing issues
License transfers
Have you closed one store, but opened another with the same theme? Get in touch with Pixel Union Theme Support for assistance. Please include the following information:
Your current store URL (e.g. https://empire-theme-graphic.myshopify.com)
The previous store URL
Email address(es) associated with the stores
Summary and statement of ownership information
Order number, copy of receipt or invoice, and any other purchase information
Third-party purchases
Many agencies and developers choose our themes for their clients, often making the license purchase on their behalf. If this is the case for your theme, start by contacting the individual or agency to provide the following information:
Email address used to purchase theme license
Copy of invoice or receipt
---
Frequently asked questions
I don't know which email was used to purchase the theme. Is this part necessary?
Yes, the email field must include the original email associated with the theme purchase.
Do I have to pay for the app to register my theme and get support?
No, a paid plan is only required to use the updating features of the app.
Do I need to keep the app after registration?
The benefit of keeping the Theme Updater App is to make the updating process more fluid and save time, energy, and costs.
Also, on the Pro plan, you also have access to Priority Support when you submit through the app.
For more details, check out the Shopify Theme Updater App FAQ
Why should I use the Theme Updater app?
The Theme Updater app is beneficial for more than just registering the theme.
With the Basic plan, access to your theme updates is provided without having to write into support. Receive an email notification for new releases, so you don't have to keep checking the app or release notes.
With the Pro plan, step ahead of the queue with Priority Support through the app. Each request submitted in this way will rise to the top of our support queue for expedited service.
My theme is unregistered, have I done something wrong?
The default state for themes is Unregistered, so no error causes this label to appear. When a theme is unregistered, this only means that the license and store have not been paired through the Theme Updater app. This can be remedied by completing the registration process.
Do I have to buy the theme again?
If sufficient evidence for valid theme purchase is provided, there is no need to purchase a new theme license.
If the license is being shared or used for multiple stores, a replacement license purchase would be required for registration.
I've added my email address and Shopify URL. Why is it not registering?
Check theme receipt to confirm the correct email and store URL are entered
Confirm that all spelling is correct for email address and store URL
My theme was set up by someone else, does this mean I'm unable to register?
You can still register even if you didn't make the theme purchase. Check out the guide for third party purchases and registration for more information.