The blog post details (e.g. post date display) can often be controlled through the theme editor. Some other article details, such as the blog author name or Gravatar (author image), are set up outside the theme. To adjust some of these details, refer to the topics discussed below.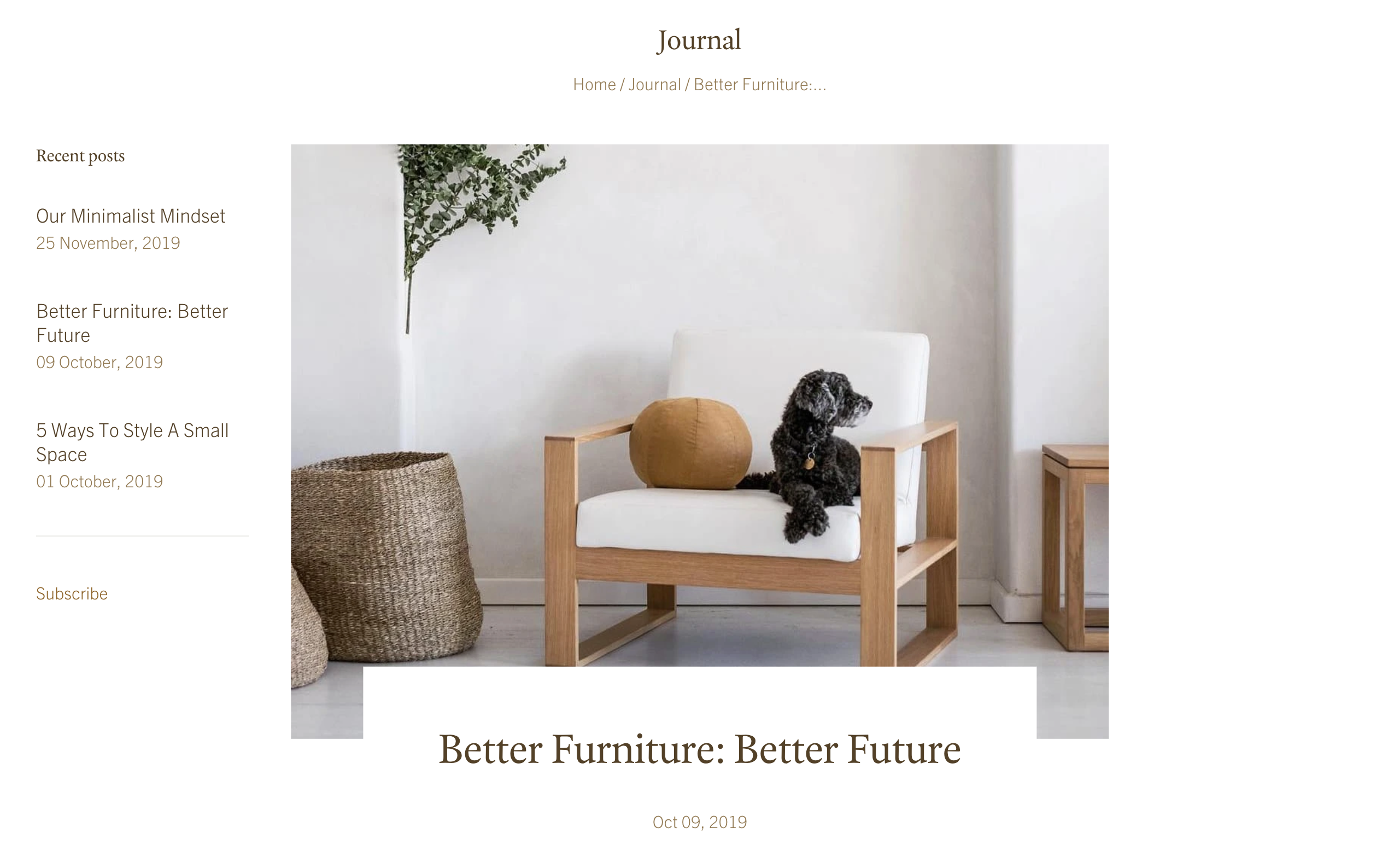 Change the blog author
The blog author is controlled in the blog post editor page of your Online Store.

Change the blog author
Go to Online Store
Open Blog posts

Select the blog post to edit

Under Organization, click the Blog author dropdown

Select a staff member

Save
Replace the blog author image
The image used for the blog posts author is that staff member's Gravatar image. If this hasn't been set up through Gravatar, this will appear as the Gravatar icon.
To change this, set up your Gravatar image:
Adjust theme editor settings
Settings vary for each theme, so please select your theme below to view the available settings.
Which theme are you working with?
Empire

Show date published

Go to Customize > Select Blog posts from the page selector dropdown > Open Article pages section > Enable Show date published > Save

Show post author

Go to Customize > Select Blog posts from the page selector dropdown > Open Article pages section > Enable Show post author > Save

Display social media share buttons

Go to Customize > Select Blog posts from the page selector dropdown > Open Article pages section > Enable Use share buttons > Save

Atlantic

Display breadcrumb links

Go to Customize > Select Blog posts from the page selector dropdown > Open Article pages section > Enable Show breadcrumbs > Save

Display social media share buttons

Go to Customize > Select Blog posts from the page selector dropdown > Open Article pages section > Select Enable social sharing > Save

Show recent posts in sidebar

Go to Customize > Select Blog posts from the page selector dropdown > Open Article pages section > Enable Show recent posts > Save

Show blog tags in sidebar

Go to Customize > Select Blog posts from the page selector dropdown > Open Article pages section > Enable Show tags > Save

Grid

Show RSS subscribe link

Go to Customize > Select Blog posts from the page selector dropdown > Open Article section > Enable Show subscribe link > Save

Show comment count

Go to Customize > Select Blog posts from the page selector dropdown > Open Article section > Enable Show comment count > Save

Show blog tags

Go to Customize > Select Blog posts from the page selector dropdown > Open Article section > Enable Show tags > Save

Show post author avatar

Go to Customize > Select Blog posts from the page selector dropdown > Open Article section > Enable Show post author avatar > Save

Show avatars on post comments

Go to Customize > Select Blog posts from the page selector dropdown > Open Article section > Enable Show avatars on post comments > Save

Show share icons

Go to Customize > Select Blog posts from the page selector dropdown > Open Article section > Enable Show share icons > Save

Add promotional image

Go to Customize > Select Blog posts from the page selector dropdown > Open Article section > Select [+] Add promotional image > Select image > Save

Pacific

Display social media share buttons

Go to Customize > Theme settings > Social media > Select Enable blog post sharing > Save

Startup

Show blog tags

Go to Customize > Select Blog posts from the page selector dropdown > Open Article section > Enable Show tags > Save

Show post author avatar

Go to Customize > Select Blog posts from the page selector dropdown > Open Article section > Enable Show post avatar > Save

Show share buttons

Go to Customize > Select Blog posts from the page selector dropdown > Open Article section > Enable Show share Buttons > Save

Show full width featured image

Go to Customize > Select Blog posts from the page selector dropdown > Open Article section > Enable Show full width featured image > Save

Launch

Show share buttons

Go to Customize > Select Blog posts from the page selector dropdown > Open Article section > Enable Show share Buttons > Save

Vogue

Show blog tags

Go to Customize > Select Blog posts from the page selector dropdown > Open Blog posts section > Enable Show tags > Save

Show blog author

Go to Customize > Select Blog posts from the page selector dropdown > Open Blog posts section > Enable Show blog author > Save

Display social media share buttons

Go to Customize > Select Blog posts from the page selector dropdown > Open Blog posts section

There are individual settings for the desired social media platforms and email. Select the ones you'd like to display with blog posts.

Reach

Show date published

Go to Customize > Select Blog posts from the page selector dropdown > Open Posts section > Enable Show date > Save

Show post author

Go to Customize > Select Blog posts from the page selector dropdown > Open Posts section > Enable Show post author > Save

Show post tags

Go to Customize > Select Blog posts from the page selector dropdown > Open Posts section > Enable Show post tags > Save

Show social sharing buttons

Go to Customize > Select Blog posts from the page selector dropdown > Open Posts section > Enable Show social sharing buttons > Save

Editions

Show post author

Go to Customize > Select Blog posts from the page selector dropdown > Open Article section > Enable Show author > Save

Show date published

Go to Customize > Select Blog posts from the page selector dropdown > Open Article section > Enable Show date > Save

Show post tags

Go to Customize > Select Blog posts from the page selector dropdown > Open Article section > Enable Show post tags > Save

Show share buttons

Go to Customize > Select Blog posts from the page selector dropdown > Open Article section > Enable Show blog post sharing > Save