A Collection page displays all of the products in a given collection. You can add and configure your collections in your Shopify admin.
Accessing theme editor settings for collection pages
Navigate to the theme editor settings by clicking Customize > Open a collection in the right-side preview or select Collection page from the page dropdown > In the left-side settings, open the Collection pages section
Show breadcrumb links on collection page
Enable Show breadcrumbs to activate this feature. Breadcrumbs are secondary navigation that show the current location of a visitor on your website, and how they got there.
Display collection image
Enable Show collection image to include the collection image at the top of the collection page.
For more information on collection images, check out Shopify's article:
Arrange product layout on the collection page
Select the number of Rows (1 to 11) and Number of products per row (2, 3, or 4) using the provided sliders.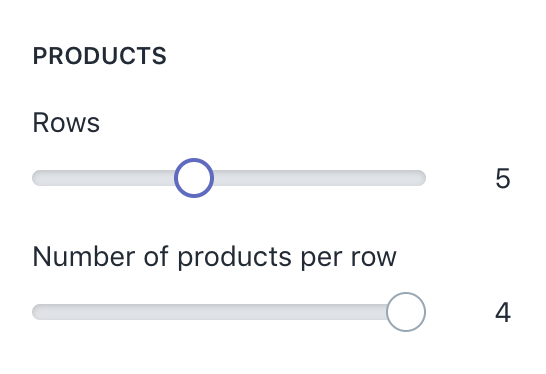 Activate product filter features
Click Enable sorting to add an organization tool for customers to rearrange the available products.
When clicked, customers will be able to sort products by:
Featured
Best Selling
Alphabetically, A-Z
Alphabetically, Z-A
Price, low to high
Price, high to low
Date, old to new
Date, new to old
Select Enable tag filter to allow visitors to sort products using custom tags, which can be added under Organization in the Products admin.
Add a sidebar menu
Include a sidebar menu on collection pages by selecting Enable sidebar, then choose a menu to feature by clicking Select menu.
Select a pagination
Atlantic comes with two distinct pagination styles: Standard pagination and Jump-to-page pagination.
Standard pagination allows users only to click through pages in sequence (displaying as "Page 1 of 5" with "Previous" and "Next" links).
Jump-to-page pagination allows users to select the page they want to access (displaying links to all the pages in a collection).
While you can set the pagination for your store in a few different places, this setting applies only to the pagination of your collection pages.