To use the updating features in Theme Updater, your theme must be supported and registered. Transferring content, settings, and customizations is only a feature of the Pro plan. Free plan subscribers are limited to accessing the latest theme version in its default form.
Once you have registered your Pixel Union theme in the app, complete the following steps to transfer content, customizations, and settings.
Initiate the update
Identify the theme for Theme Updater to use as a reference. This theme will either be in the Home or Registered themes areas of the app.
To transfer content from the published theme, open the Home area of Theme Updater.

To transfer content from a draft theme, open Registered themes.

For this example, we are updating the draft Empire theme from the Registered themes area.
Click the Update button to open a confirmation window.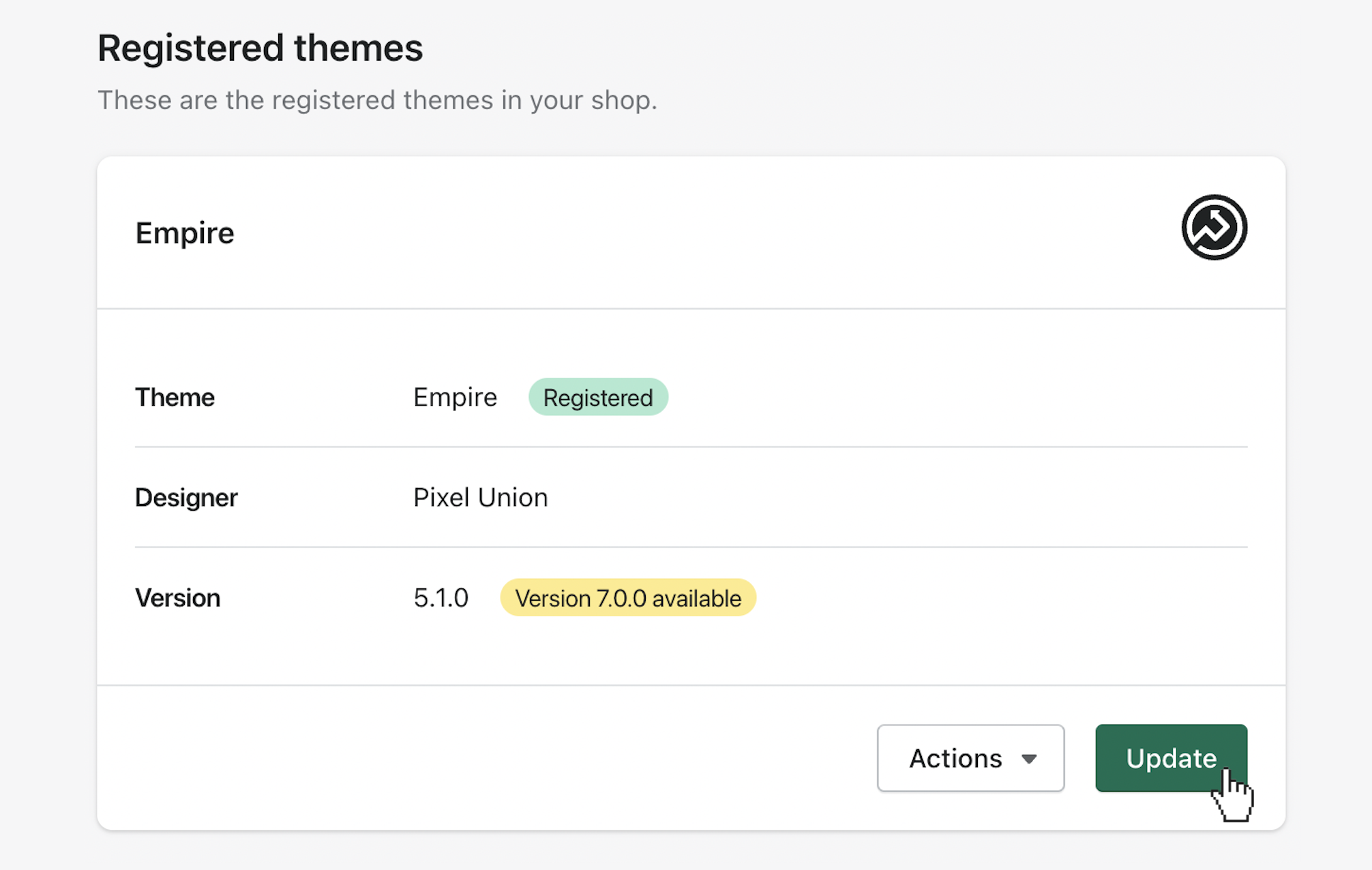 The Update button is only available for Pro subscribers. If you are using the Free plan, you can use the Install default theme version to add the latest version to your store and update your theme manually.
Theme name
Add a new Theme name or leave the previous name with appended date of update.
Preserve customizations
Select Preserve customizations to transfer content, customizations, and theme setting configurations to the latest version.
Leave this box unchecked to discard custom content while adding the latest version.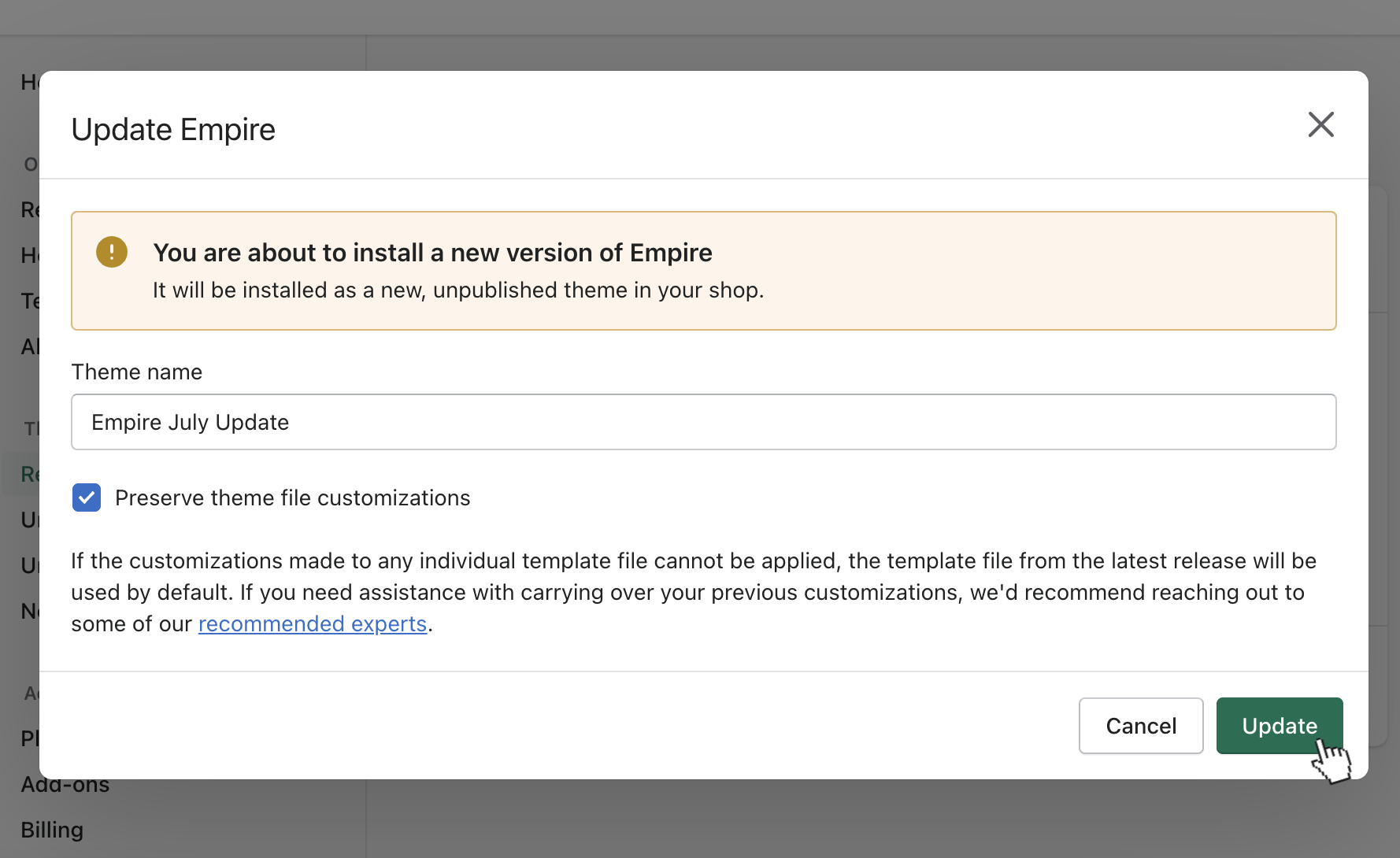 Update
Click Update to start the update. This adds a new theme draft to your Registered themes page. The duration for each update process can vary depending on the level of customization, version distance, or other factors.
Review the update
A modal window will appear once the update is complete. This indicates the update was fully successful or still requires some adjustments to adapt the code modifications to the new theme version.
Some files still require a manual update
When modifications to the theme files are unable to transfer automatically, these instances are gathered and listed on the Conflicted Customizations page.
Click View Conflicted Customizations to browse the incomplete adjustments.
Compare file merge conflicts
File merge conflicts are side-by-side comparisons of the theme code in its default form (red) and the adjustments identified (green). Use these to determine if the code can be repurposed for the new theme version or if a Shopify Expert is needed.
Each theme file identified as Changed will feature a label and a Show code button.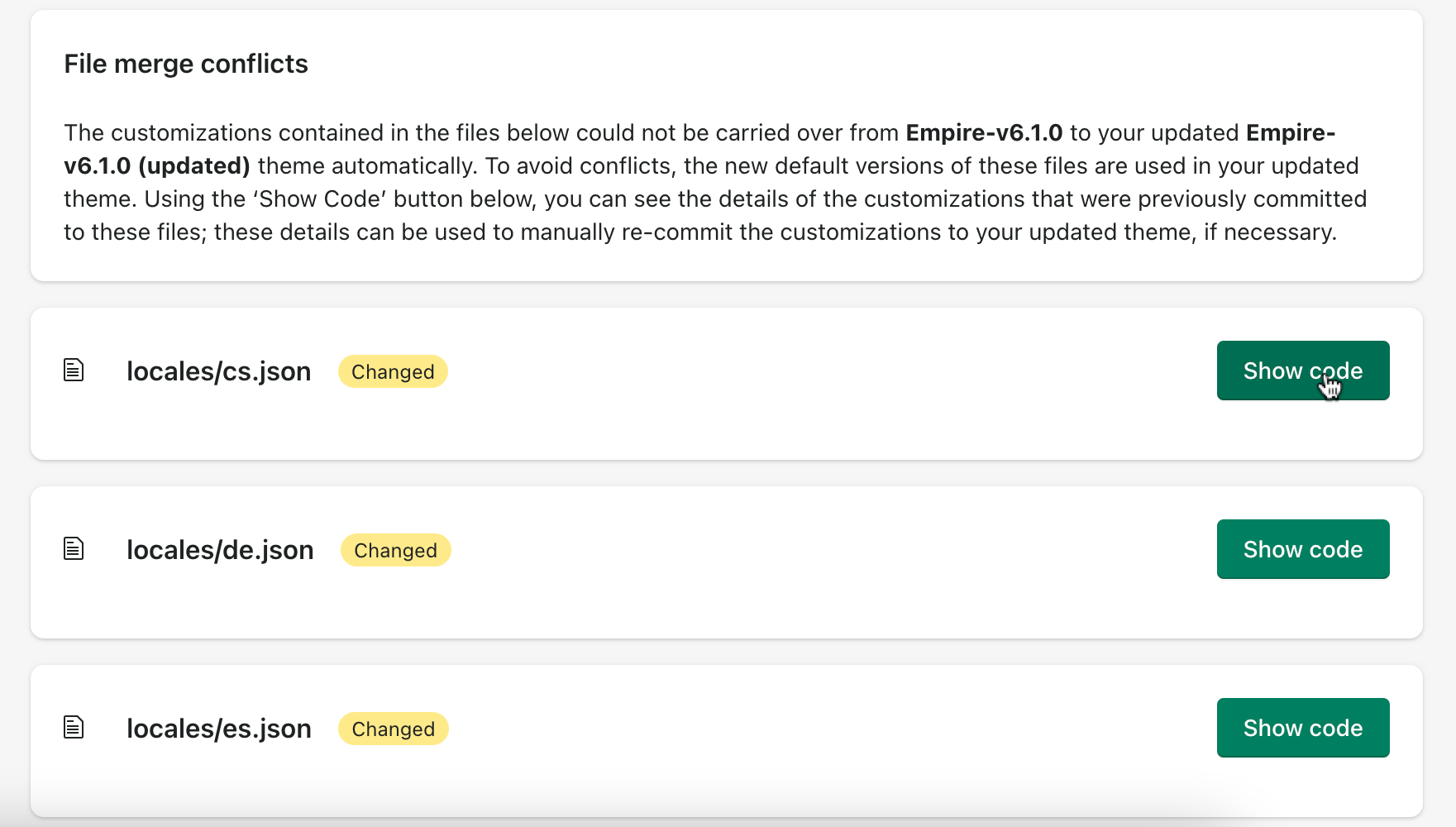 Click Show code to reveal the code changes.

Preview new theme
Once you have located and applied the necessary adjustments, open Actions and then Preview to view your new theme version.
Check your home page, templates (e.g. product page), and static pages to evaluate the app's success.