Like the header, the footer is a static section that remains visible on each page. This area is often used to include navigation, social links, and other resources useful to customers.
Use the theme editor to access footer settings, include a navigation menu, display accepted payment types, add up to four content blocks, and change the footer copyright credit for your footer.
For Multi-Currency, consider Cross border: Enabling currency selection in the footer.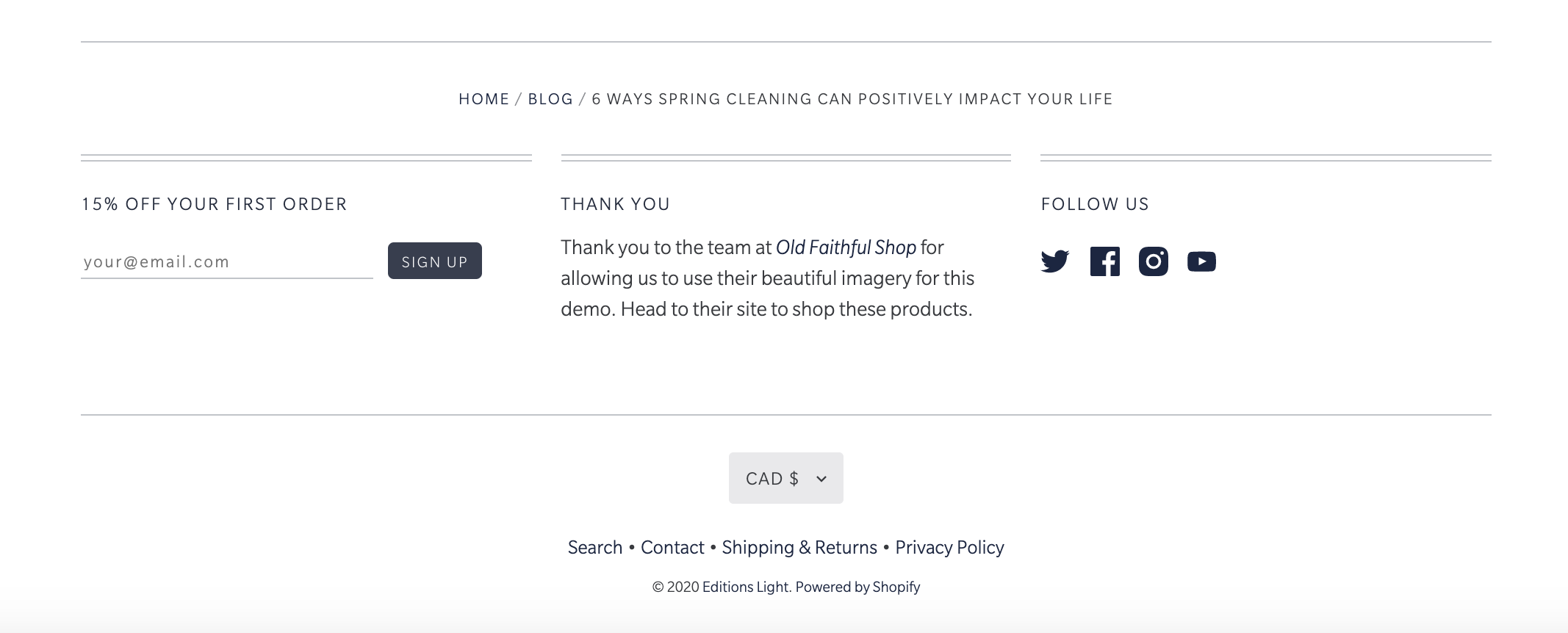 Access footer settings
Go to Customize > Sections > Footer to access the theme's Footer features.
Include a navigation menu
Editions can display an additional menu in the footer. Click Select menu to connect the desired menu with your footer section. If the menu contains nested items, only the initial/first tier will appear.
Display accepted payment types
To display payment icons in your footer, enable Show payment icons. To control which payment types are accepted, go to the Settings in the Shopify admin.
Add up to four content blocks
The footer can also feature additional content blocks, which can be used to add Rich text, (another) Footer menu, Social media links, and Newsletter.
The theme will include three blocks by default. To modify these, select the block. To remove the block, open the block, then select Remove content.
To add a new content block, select [+] Add content.
Footer menu block
Display a menu in your store's footer (in addition to or instead of the Additional menu you may have already connected above). Set up the menu under Online store > Navigation, connect it by clicking Select menu. Then add a Heading.

Any menu with the handle footer will automatically display at the bottom of the footer, just before the copyright credit.
Rich text block
Rich text allows you to add a customized message to your footer. Include text using the Heading and Caption fields.
Social media links block
Add a Social accounts block to your footer to give customers a shortcut to your social media pages.
Social media links will pull from the Social media portion of the Theme settings.
Newsletter block
To help you build your mailing list, Editions comes with a footer newsletter subscription field. Add a Newsletter block to your footer content to activate it. All email addresses collected by this form will be added to your customer list (Customers in the Shopify admin).
Include some messaging about the newsletter using the Text field.
Change the footer copyright credit
From the Online store admin:
Actions > Edit languages > Layout
From the theme editor:
Theme actions > Edit languages > Layout
Use the provided fields to modify or replace the default copy, then save.